If you stop and think about it, your life is a series of events, relationships, moments, and places.  Those things are what makes YOUR story so unique.  Your story is something that shows perseverance, love, blessing, faithfulness, and how to make it through difficult times.  God can use you to encourage others who may find themselves in similar circumstances.  At HopeFM, we believe God is in Your story and we love communicating and celebrating God's faithfulness…because that's where Hope is found.
God is in YOUR story...and He will use your giving to help impact our community for Him!
A custom "God Is In My Story" journal is year's special thank you for any gift of $480 or more.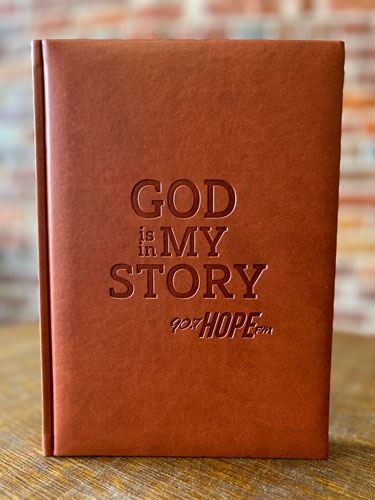 God is in Your Story -
101% Funded
Thanks again for being a part of the FAMILY!
HopeFM & Thrive Radio (Wonderful News Radio) is a 501c3 Non-Profit Organization. 
Your giving may have tax advantages.